What does consent look like today?
The past decade has seen a seismic shift in society's understandings of consent across interpersonal, institutional, colonial and environmental contexts. The conversation around consent has been urgent, swirling and contested. At its heart are questions of agency, respect, recognition, sovereignty, visibility and empathy. It is the site where systemic change is enacted, and where we negotiate power on an individual level.
Against this backdrop we ask, have learnings from #MeToo, decolonisation, queer and body politics and even the COVID-19 pandemic had an impact on the ways we act, engage and communicate with one another?
View below the Ian Potter Museum of Art annual Interdisciplinary Forum, which highlights artmaking as a form of knowledge creation alongside other academic fields of inquiry. Building on previous themes of WATER, LANGUAGE and MACHINE, our 2021 theme was CONSENT, where University of Melbourne experts discussed the dynamics, implications and stakes of this concept, which is central to our lives.
Across three afternoons, our online forum sessions explored consent through five key areas: COVID-19, decolonisation, data and the consumer, human and non-human relations, and bodily autonomy. Some of the country's leading voices in criminology, creative writing, marketing, law, digital ethics and computing, science and technology, health and design presented, alongside creative commissions from Luke George and Debris Facility Pty Ltd.
The Potter's annual interdisciplinary forum program series was co-presented with the Centre of Visual Art (CoVA) at the University of Melbourne.  
Abstracts for our speakers' presentations for all sessions can be found here:
________________________________________________________________________
DAY 1 

| 

Tuesday 30 November

 | starting 2pm

Introduction and welcome
Rose Hiscock | Director Museums and Collections, the University of Melbourne 
This session opened with a keynote address on consent by Professor Clare Delany.
Our speakers for the session on COVID-19 each gave 10-minute presentations before joining a 15-minute panel discussion chaired by Professor Delany. 
2.10–2.35pm
KEYNOTE ADDRESS: 

C

onsent: 

L

ayers of 

M

eaning



Clare Delany
The idea of consent has many layers. Visible elements include information given by one person followed by voluntary agreement given by another person – who has capacity to understand the information and choices available. But beneath these formal elements of information exchange, are much richer layers of meaning about what it means to respect, empower and promote a person's autonomy and autonomous choices. This keynote address will discuss ethical meanings of autonomy and how these philosophical ideas can enrich our understanding and transform our practice of consent across many disciplinary fields and in our communication with others. 
Professor Clare Delany is a Clinical Ethicist at the Royal Children's Hospital Children's Bioethics and at Peter MacCallum Cancer Centre in Melbourne. She is also a Professor in Health Professions Education in the Department of Medical Education, Melbourne Medical School. Clare teaches and conducts research in health ethics, health professions education, applied clinical ethics, critical thinking and clinical and ethical reasoning.   
2.35

–3.20pm
SESSION ONE: COVID-19 

 
Spatial Injustice in the Pandemic City 

Alison Young
Alison Young is the Francine V. McNiff Professor of Criminology in the School of Social and Political Sciences at the University of Melbourne. She is the author of several books including Street Art World (2016), Street Art, Public City (2014) and Judging the Image (2005), and numerous articles on the intersection of law, crime and public space. She is currently conducting research on the atmospheres on lockdown in the covid-129 pandemic, and an ARC-funded project on legal, social and municipal responses to public homelessness and public dissent. She is the Deputy Director of the recently established Melbourne Centre for Cities. 
Surveillance Technologies: Considerations of Consent in COVID-19   

Gabby Bush
and
Simon Coghlan 
Gabby Bush is the program manager at the Centre for AI and Digital Ethics (CAIDE). In this role, Gabby coordinates the work of CAIDE, including engagement, research dissemination, grants and projects, including work on monitoring and surveillance, bias in algorithms and the CAIDE research stream in Art, AI and Digital Ethics. Gabby joined the Centre from Canberra, where she spearheaded engagement and partnerships in technology and development. Prior to that Gabby ran the eGovernance and Digitisation project for the United Nations Development Program in Samoa. Gabby hails from Aotearoa, New Zealand and has postgraduate qualifications in International Development and Religious Studies.   
 
Dr Simon Coghlan is a moral philosopher and a senior research fellow in the Centre for AI and Digital Ethics (CAIDE) and the School of Computing and Information Systems (CIS). Simon's research in digital ethics includes care robots for older people, animal-computer interaction, and digital technologies in healthcare and public health.  
The Willingly Unvaccinated: What Will Democracy Tolerate?  

Darrin Durant
Dr Darrin Durant is senior lecturer of science and technology studies at the University of Melbourne. His research focuses on the relation between experts and citizens in public policy discussions, where issues are both technically contested and politically divisive. His empirical research focuses on environmental and energy politics, including climate change and nuclear power, and disinformation practices within democracies. His most recent book is Experts and the Will of the People: Society, Populism and Science (2020).  
P

anel discussion chaired by 

Professor 

Clare Delany

 



________________________________________________________________________
DAY 2 | 

Wednesday 1 December

 | starting 2pm
2.00

–2.50pm
SESSION TWO: DECOLONISATION

Introduction and welcome
Dr Simon Maidment | Associate Director | Art Museums, Museums and Collections; Director | Ian Potter Museum of Art; Buxton Contemporary; Old Quad
Our speakers for this session each gave 10-minute presentations before joining a 15-minute panel discussion chaired by Professor Barry Judd. 
Lawful Relations: archive, agency, consent? 


Ann Genovese and Crystal McKinnon
Associate Professor Ann Genovese teaches at Melbourne Law School. She is an Australian historian, and a feminist jurisprudent, and researches the relationship between Law and History as disciplines and practices; the nature of legal archives and the responsibilities of custodians and writers towards them; and the techniques necessary to show how Australian people have lived with their law. She has explored these interrelated concerns across multiple sites and publicly funded projects, and her work has been integral to the establishment of an emergent practice, Jurisography. She is part of the team on the ARC funded project Lawful relations: Encounter to treaty.    
Dr Crystal McKinnon is an Amangu Yamatji academic, researcher and community organiser. She is a historian and a critical Indigenous studies scholar who is a Vice Chancellor's Indigenous Research Fellow at RMIT University, and a Visiting Fellow at the Indigenous Law and Justice Hub at the Melbourne Law School.  Her research work has looked at concepts of Indigenous sovereignty, justice and law, and Indigenous social movements, resistance and protest. Crystal is the co-editor of Aboriginal History journal, and of History, Power and Text: Cultural Studies and Indigenous Studies (UTS ePress, 2014), and her work has been published in many books and journals. Crystal has previously worked in both the Aboriginal community organisation and the community legal centre sectors.  
Reframing the repatriated object: Uncovering New Meaning from Consented Access to Re(ma)triated Knowledge Sharing 
Vanessa Russ 
Academic and artist Dr Vanessa Russ is the former Associate Director at The Berndt Museum of Anthropology, UWA. With family connections to Ngarinyin/Giga community in the Kimberley region, Russ is the inaugural recipient of the Asialink Leaders Program Indigenous Fellowship and Churchill Fellow 2014. She recently published A History of Aboriginal Art in the Art Gallery of New South Wales (Routledge, 2021). Her current research interests include Western Australian art history and the gaps, and the potential for reframing Australian art history through an Asian lens in search of an inclusive approach to Aboriginal Australian art. Russ currently works with Professor Marica Langton at the Indigenous Studies Unit, Centre for Health Equity, Melbourne School of Population & Global Health.  
Decolonising the archive through the re(a)-performance of the blak body
r e a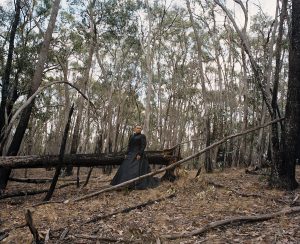 r e a (aka. Dr Rea Saunders and/or Rea Noir) is an experimental interdisciplinary artist, activist from the Gamilaraay / Wailwan / Biripi nations, NSW. r e a is a lecturer in the Aboriginal and Torres Strait Islander Studies Unit at the University of Queensland. r e a's research-led practice explores the intersectionality and positionality of gender and identity politics of the blak body, through the cultural convergence of Aboriginality, in the arts, technology, history through the lens of colonialism. Their research engages in the decolonisation of the archive through the sensorial, which repositions their work in a radical space of Indigenisation and sovereignty. 
Panel discussion chaired by Professor Barry Judd

Professor Barry Judd is Director of Indigenous Studies at the University of Melbourne. He is a descendent of the Pitjantjatjara people of north-west South Australia, British immigrants, and Afghan cameleers. Barry is committed to the research of issues that impact Aboriginal peoples who live in the arid inland. He is a leading Australian scholar on the subject of Aboriginal participation in Australian sports. Barry's main research interest is in issues about identity – what kind of Australian identities have been formed out of the colonial contact between Aboriginal and non-Aboriginal peoples in Australia. His research focuses on Aboriginal people in sport as a way of engaging the broader population in difficult questions around the place of indigenous people in Australian society. 
3.00–3.50pm
SESSION THREE: DATA AND THE CONSUMER

Introduction and welcome
Our speakers for this session each gave 10-minute presentations before joining a 15-minute panel discussion chaired by Professor Jeannie Paterson. This was followed by User Aggrievance, a 15-minute creative presentation by Debris Facility Pty Ltd. 
Consumer Consent: Assumptions, Agency and Enmeshment
Michal Carrington
Dr Michal Carrington is a marketing academic at the University of Melbourne, with a focus on consumer culture and consumer ethics. Michal publishes research widely in top-tier international marketing and business journals, as well as media outlets such as The Conversation, and has published books and book chapters in these topic areas. Michal is co-section editor of the Journal of Business Ethics (Consumer Ethics). Michal holds a BEng (Hons) in Mechanical Engineering from the University of Melbourne, and a PhD in Marketing also from the University of Melbourne. Prior to entering academia, Michal worked for Unilever in Australia and the UK.   
Informed? Consent: New Health Tech and Data Proliferation  
Megan Prictor 
Dr Megan Prictor is Senior Research Fellow at Melbourne Law School and the University's Centre for Digital Transformation of Health.  Her work ranges across diverse digital technologies in healthcare with a focus on the nexus between consumers and clinicians.  She is a 2021 Dyason Fellow, conducting research on governance of secondary use of health data with the University of Auckland, and also holds a University of Melbourne Early Career Researcher grant to investigate genomic data protection and disclosure via networked electronic medical records.  Other workstreams examine the law's application to healthcare consultation recording, dynamic consent and clinician decision support software.   
The Visibility Trap: Surveillance, Pedagogy, Consent  
Tyne Sumner
Dr Tyne Sumner is a Postdoctoral Research Fellow in the School of Culture and Communication at the University of Melbourne. Her work explores the relationship between literature and surveillance with a focus on questions of privacy, identity, confession, and subjectivity in the context of digital technology and the increasing datafication of everyday life. She also researches and teaches digital humanities, digital ethics, cultural data, and digital research skills. Her first monograph is Lyric Eye: The Poetics of Twentieth-Century Surveillance (Routledge, 2021).   
Panel discussion chaired by Professor Jeannie Paterson 
Jeannie Marie Paterson is a Professor of Law at The University of Melbourne. Jeannie is the co-director of the Centre for AI and Digital Ethics (CAIDE), a new collaborative, interdisciplinary research, teaching and policy centre at the University of Melbourne. Jeannie is also the Co-leader of the Digital Ethics research stream at the Melbourne Social Equity Institute and a member of the Advisory Board for the Australian Society of Computers and the Law. Jeannie's research and teaching focus on consumer protection and the regulation of new digital technologies for effective, fair and safe outcomes.  
3.50-4.05pm

CREATIVE

 PRESENTATION

: 

User Aggrievance
Debris Facility Pty Ltd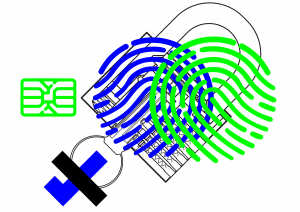 Debris Facility (them/all) is a white settler, queer body corporate found-dead in 2015. As a corporate entity our activities utilise a parasite methodology which ensnares processes of neoliberal identity construction and industrial commodification. They produce wearable works, installations, text, design, performances and interventions which respond to specific contexts and coworkers. They extend their research and pedagogical work through contracts with Liquid Architecture and Victorian College of the Arts. They prolifically exhibit and produce works in local, national and international contexts, in galleries, performance spaces, publications and within (and without) industry. Their work is held in numerous private collections and landfill. They work 24/7 on the stolen lands of the Kulin Nation. 
________________________________________________________________________
DAY 3 | 

Thursday 2 December

 | starting 2pm

2.00–2.50pm
SESSION FOUR: HUMAN/NON-HUMAN

Our speakers for this session each gave 10-minute presentations before joining a 15-minute panel discussion chaired by Stephanie Lavau.  
Living and Dying in the Gallery: Animals as Art
Barbara Creed
Barbara Creed is a Redmond Barry Distinguished Professor Emeritus in the School of Culture & Communication at the University of Melbourne. She is the author of a number of influential books on feminism, sexuality, film and media, including The Monstrous-Feminine: Film, Feminism, Psychoanalysis (1993). Creed's recent research is on animal studies, the inhuman and social justice issues. In 2006 she was elected to the Australian Academy of the Humanities and she is currently the director of the Human Rights and Animal Ethics Research Network (HRAE) at the University of Melbourne. She is the author of Stray: human/animal ethics in the Anthropocene (2016).
"You are stealing their future in front of their very eyes!" (Greta Thunberg, COP24, Poland, Dec 2018): Climate Change, Inter-generational Justice and the Courts
Jacqueline Peel
Jacqueline (Jackie) Peel is a Professor of environmental and climate law at the Melbourne Law School and Director of the University's Melbourne Climate Futures initiative. She is a world leading expert on the topic of climate action in the courts, with several books, articles, policy reports and media appearances on this issue. Jackie presently serves as a Lead Author on Working Group III of the Intergovernmental Panel of Climate Change for its Sixth Assessment Report, looking at the effectiveness of the Paris Agreement and international cooperation on climate change mitigation.  
Groundwater Stories: Poetry's Ecocritical Subterrain
A. Frances Johnson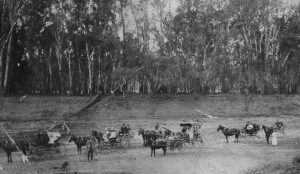 Associate Professor A. Frances Johnson won the 2020 ABR international Peter Porter Poetry Prize. Recent poetry collections include Save As (Puncher and Wattmann 2021) and Rendition for Harp and Kalashnikov (Puncher and Wattmann 2017), the latter shortlisted in the 2018 Melbourne Prize for Literature Best New Writing Award. A novel, Eugene's Falls (Arcadia 2007), retraces the journeys of colonial painter Eugene von Guerard. A new art-and-writing writing project, The Lost Garden, explores first-contact histories in remote Southern Tasmania, evoking early horticultural attempts to colonise by seed. A monograph, Australian Fiction as Archival Salvage, was published by Brill in 2015. She teaches Poetry and Poetics and Contemporary Eco-fiction at the University of Melbourne.   
Panel discussion chaired by Stephanie Lavau 
Dr Stephanie Lavau is a Senior Lecturer in Interdisciplinary Environmental Practice at The University of Melbourne.  Her socio-cultural environmental research focuses on environmental management, knowledge and governance, particularly in relation to urban water management, biodiversity conservation, and biosecurity.  Stephanie's research creates convergences between environmental sociology, science and technology studies, human geography, and environmental anthropology.  Core themes within her work include: knowledge practices as world-making; contested natures; and civic ecologies.  Stephanie lives and works on the unceded lands of the Wurundjeri people of the Kulin Nation.  
3.00–4.05pm
SESSION FIVE: BODILY AUTONOMY

Introduction and welcome
Our speakers for this session each gave 10-minute presentations before joining a 15-minute panel discussion chaired by Vikki McInnes. This was followed by Risk and Intimacy, a creative presentation by Luke George. 
Achieving Justice for Sexual Violence: Moving Beyond the Limits of Consent and Criminal Law  


Bianca Fileborn
Dr Bianca Fileborn (she/they) is a DECRA Research Fellow and Senior Lecturer in Criminology in the School of Social and Political Sciences, University of Melbourne. Bianca's current research includes a focus on victim-centred justice responses to street-based harassment, sexual violence and LGBTQ+ communities, harassment in rideshare and taxi services, and gender-based violence in the music industry, live music spaces and the night-time economy. They are the author of Reclaiming the Night-Time Economy: Unwanted Sexual Attention in Pubs and Clubs, and co-editor of #MeToo and the Politics of Social Change, and the forthcoming Geographies of Gender-Based Violence.  
Sexual Harassment and Unwelcomeness – Legal Standard and Social Stereotypes 


Beth Gaze
Beth Gaze is a Professor in the Melbourne Law School.  She teaches and researches in anti-discrimination law including harassment. She has consulted to both state and federal government on law reform in these areas, and has conducted legal and empirical research. Her most recent book is Equality and Discrimination Law in Australia: An Introduction (2017, with Belinda Smith).  
Permission: 

Gender Nonconformity, Consent & Public Space

 


Simona Castricum 
Simona Castricum is a multidisciplinary creative and academic working at the intersection of music and architecture. Her work explores queer and trans intersections in architecture, public space, and civic life. Simona is an educator and PhD candidate in Architecture, the Melbourne School of Design at the University of Melbourne where she is exploring gender nonconforming and queer spatial production in the city, architecture and public space through musical communities and her lived experience as a musician and DJ. She is an associate of Parlour: women, equity, architecture, and a community radio broadcaster at 3RRR Melbourne.
Panel discussion chaired by Vikki McInnes  
Vikki McInnes is Lecturer in Art at the Victorian College of the Arts, and coordinator of the Master of Fine Art (Visual Art) program. She has worked at the VCA since 2005 and was Director, Margaret Lawrence Gallery until 2015. In 2009, with Kate Barber, she established Sarah Scout Presents, a private gallery committed to representing and developing opportunities for early to mid-career artists with critically engaged conceptual practices. She is also co-founder of the contemporary art fair Spring1883 and currently undertaking a PhD at the University of Melbourne considering contemporary feminist art practice and the archive in Australia.  
3.50-4.05pm


CREATIVE PRESENTATION

:

 

Risk and Intimacy 
Luke George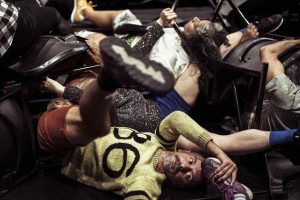 Luke George creates new choreographic and visual work that takes daring and at times, unorthodox methods, to explore new intimacies and connections between artist and audience. Luke's artistic practice is informed by queer politics, whereby people are neither singular nor isolated; bodies of difference can intersect, practice mutual listening, take responsibility for themselves and one another. He sees dance less as spectacle than as reflexive practice, in which people examine themselves and their values through movement and interaction. He is concerned with relational politics, examining the dynamics of intimacy and collectivity to create 'safe spaces' that allow for care as well as risk.