The design and construction of the Grainger Museum occurred in two stages: the central foyer and front galleries in 1935, and the adjoining radial and semicircular galleries in 1938. Throughout the entire process the University of Melbourne architect John Gawler worked closely with the composer Percy Grainger, who established the Museum and whose life formed the basis of its collection.
Throughout July 2021, we are working with the Melbourne School of Design Fab Lab to develop a 3D printed model highlighting the internal space of the Grainger Museum, which has recently been returned to its original state prior to opening to the public in December 1938. Once completed, the model will be displayed as part of the 21 x 10 exhibition at Arts West, Level 2.
2021 begins a new phase in the complex history of the Grainger Museum at the University of Melbourne. Pushing the boundaries of the Museum in both its physical and conceptual form, a new strategy has been developed to underpin a contemporary conceptualisation of the building and its collection as a Cultural Laboratory. The strategy refocuses on the Museum's entwined activities of research and learning, and on creative engagement with core themes and collections. Key among these are the life and creative work of the museum's founder, musician and radical experimental composer Percy Grainger, and the areas of music, multidisciplinary art, design and architecture more broadly.
Over the coming months and years, the Museum environment will be transformed through creative and research-driven practice, with students, curators and artists developing new installations and experiments. As part of 21 x 10, VCA Interactive Composition student Sydney Miller will reconceptualise the audio environment with a newly commissioned soundscape responding to the resonances of the physical architecture and the experimental Free Music practice of the Museum's founder.  At the same time Dr Rochus Hinkel, Associate Professor at the Melbourne School of Design, will present a digital triptych installation in the museum's foyer, allowing for a new atmospheric and spatial reading of the architecture of the museum, its interior and cultural contexts, using static, dynamic and animated point cloud visualisations.
The new Grainger strategy also incorporates a further expansion of the building's architecture into the virtual space. Throughout 2021, the physical Museum has been scanned in 3D by Melbourne School of Design to create a point cloud virtual environment. The building's 'digital twin' will be populated with contemporary programs and commissions including virtual exhibitions, soundscapes and dance performances.
Visit 21 x 10 at Arts West, Level 2 and the Arts West Digital studios.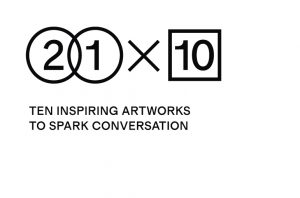 DISCOVER MORE